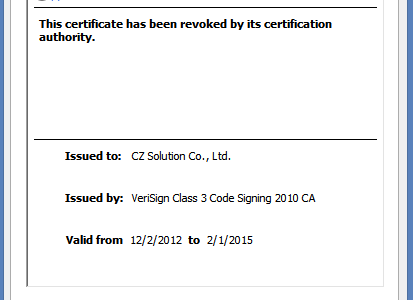 Here are all samples (+ more) mentioned in this post by Fireeye : The Little Signature That Could: The Curious Case of CZ Solution"
All files are digitally signed with a "CZ Solutions" certificate making it easy to create a Yara or ClamAV signature.
A few Zeus samples seem to be still beaconing. Most are sinkholed.
The certificate is now revoked by VeriSign.
Enjoy
Download
Download. Email me if you need the password (new link)
File Information
Listed by Fireeye 
Xtreme Rat_78CED3B6C04D372CE10B6B8606B3B747 78ced3b6c04d372ce10b6b8606b3b747Spy-Net 2.6_6A56F6735F4B16A60F39B18842FD97D0 6_6A56F6735F4B16A60F39B18842FD97D0 Xtreme Rat_7C00BA0FCBFEE6186994A8988A864385.msg msg 7c00ba0fcbfee6186994a8988a864385XtremeRAT 3.5 Private _2E776E18DEC61CF6CCD68FBACD55FAB3 2e776e18dec61cf6ccd68fbacd55fab3XtremeRAT 3.5 Private _BD70A7CAE3EBF85CF1EDD9EE776D8364 bd70a7cae3ebf85cf1edd9ee776d8364XtremeRAT 3.5 Private_0BE3B0E296BE33903BF76B8CD9CF52CA 0be3b0e296be33903bf76b8cd9cf52caXtremeRAT 3.5 Private_7416EC2889227F046F48C15C45C102DA 7416ec2889227f046f48c15c45c102daXtremeRAT 3.5 Private_BE47EC66D861C35784DA527BF0F2E03A be47ec66d861c35784da527bf0f2e03aXtremeRAT 3.5 Private_C27232691DACF4CFF24A4D04B3B2896B c27232691dacf4cff24a4d04b3b2896bXtremeRAT 3.5 Private_E79636E4C7418544D188A29481C100BB e79636e4c7418544d188a29481c100bbZeus_9C11EF09131A3373EEF5C9D83802D56B 9c11ef09131a3373eef5c9d83802d56bZeus_DCD3E45D40C8817061F716557E7A05B6 dcd3e45d40c8817061f716557e7a05b6
Additional (mix of RATs and Trojans)
2D186068153091927B26CD3A6831BE68 2d186068153091927b26cd3a6831be684A997E3395A8BB8D73193E158289F4CE 4a997e3395a8bb8d73193e158289f4ce7E92A754AAAA0853469566D5DBF2E70C 7e92a754aaaa0853469566d5dbf2e70c9CFD17C48FC0D300E4AA22E2C8C029D6 9cfd17c48fc0d300e4aa22e2c8c029d637FEE821695B664EBE66D55D8C0696F2 37fee821695b664ebe66d55d8c0696f2445C22E94EAB61B3D4682824A19F8E92 445c22e94eab61b3d4682824a19f8e92819B4C40F56F69C72E62EF06C85EA3E1 819b4c40f56f69c72e62ef06c85ea3e1947C21CB8E28B854FF02C2241399A450 947c21cb8e28b854ff02c2241399a4502859089CC3E31DA60C64D56C416175E2 2859089cc3e31da60c64d56c416175e2A9EE1BF62DEE532BE2BE217D3E4A8927 a9ee1bf62dee532be2be217d3e4a8927AC87BC7DD4B38FA3EBA23BF042B160CE ac87bc7dd4b38fa3eba23bf042b160ceB953FD2B3D5C10EC735681982D3C6352 b953fd2b3d5c10ec735681982d3c6352BD5188031BB8EB317FB58F0A49CCBF9C bd5188031bb8eb317fb58f0a49ccbf9cD7CF30E3DBFD32A1D1E38CEE464EC6A6 d7cf30e3dbfd32a1d1e38cee464ec6a6E1AFC706C8C96FACEDB6CB62E6CBFD2D e1afc706c8c96facedb6cb62e6cbfd2dGh0stB_7A26BBD7B5942B49FC0A9CB7268BD030 7a26bbd7b5942b49fc0a9cb7268bd030SpyRat_E0B0BBA2F6399B0577C37E2A3BC3390A e0b0bba2f6399b0577c37e2a3bc3390aZeus_0D8F9C5898596251233C3FD1DCB34161 0d8f9c5898596251233c3fd1dcb34161Zeus_7A6BBC32868A9F776452355F909F95D6 7a6bbc32868a9f776452355f909f95d6Zeus_7CD6C4A6103F23858C7ED047391F1D3B 7cd6c4a6103f23858c7ed047391f1d3bZeus_52BE0408084F536E42FEB7C57F521592 52be0408084f536e42feb7c57f521592Zeus_5746DD569623431BA41A247FA64847D7 5746dd569623431ba41a247fa64847d7Zeus_A79089B5E6744C622D61BEFA40AF77D3 a79089b5e6744c622d61befa40af77d3Zeus_E2190F61B532BD51E585449BAAE31BC1 e2190f61b532bd51e585449baae31bc1Zeus_F76A509FEE28C5F65046D6DC072658B2 f76a509fee28c5f65046d6dc072658b2